Toshiba Satellite T115-S1100 Resource Manual
Download Resource manual of Toshiba T135D-S1328 Laptop for Free or View it Online on All-Guides.com. This version of Toshiba T135D-S1328 Manual compatible with such list of devices, as: T135D-S1324, T135D-S1320, T135-S1310, T135-S1305, T115-S1108
Brand: Toshiba
Category: Laptop
Type: Resource manual
Model: Toshiba T135D-S1328 , Toshiba T135D-S1325 , Toshiba T135D-S1324 , Toshiba T135D-S1322 , Toshiba T135D-S1320 , Toshiba T135-S1330 , Toshiba T135-S1312 , Toshiba T135-S1310 , Toshiba T135-S1309 , Toshiba T135-S1307 , Toshiba T135-S1305 , Toshiba T135-S1300 , Toshiba T130-W1302 , Toshiba T115D-S1125 , Toshiba T115D-S1121 , Toshiba T115D-S1120 , Toshiba T115-S1108 , Toshiba T115-S1105 , Toshiba T115-S1100 , Toshiba T115 S1100 - Satellite - Celeron 1.3 GHz , Toshiba T110-EZ1110 , Toshiba Satellite T135-SP2911 , Toshiba Satellite T135-SP2910 , Toshiba Satellite T135-SP2013 , Toshiba Satellite T115D-SP2001
Pages: 52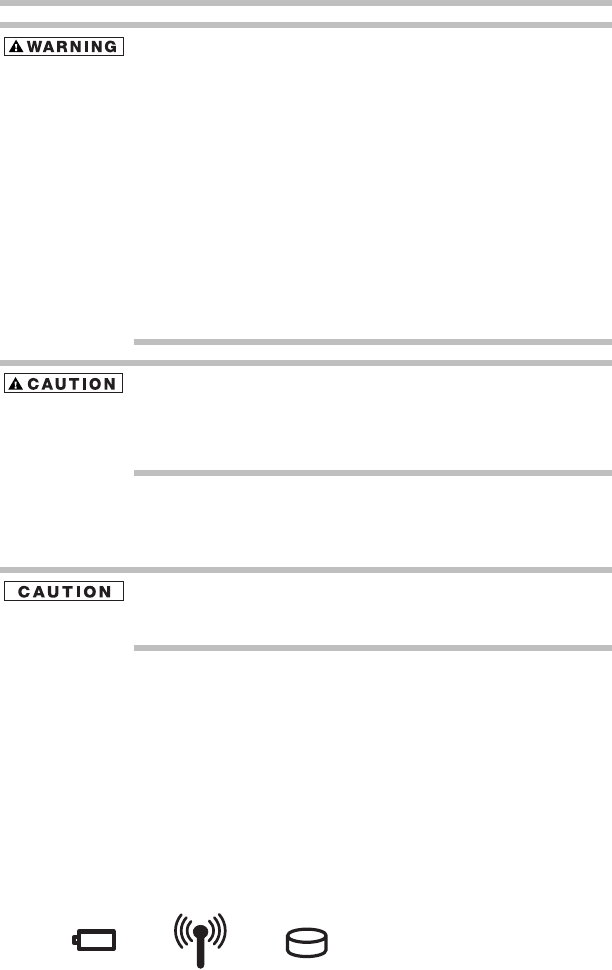 25
Setting up your computer and getting started
5.375 x 8.375 ver 3.1
Never allow any liquids to spill into any part of your computer, and
never expose the computer to rain, water, seawater or moisture.
Exposure to liquid or moisture can
cause electric shock or fire,
resulting in damage or serious injury. If any of these eventualities
should accidentally occur, immediately:
1. Turn off the computer.
2. Disconnect the AC adaptor from the power plug socket and
computer.
3. Remove the battery pack.
Failure to follow these instructions could result in serious injury or
permanent damage to the computer.
Do not turn on the power again until you have taken the computer to
an authorized service center.
❖
Avoid prolonged physical contact with the underside or surface
of the computer.
❖
Computer base and palm rest can become hot! Avoid prolonged
contact to prevent heat injury to skin.
Read the "Avoid extended contact
between computer base/palm rest
and skin" section in the "Instruction Manual for Safety and
Comfort" that is shipped with your computer.
Never place a heavy object on the computer and be careful not to
drop a heavy object onto the computer. It could damage the
computer or cause system failure.
Your computer's features and specifications
Certain computer chassis are de
signed to accommodate all possible
configurations for an entire product Series. Your select model may
not have all the features and speci
fications corresponding to all of
the icons or switches shown on the computer chassis, unless you
have selected all those features.
This information applies to all the features and icons described in
this guide.
Below are examples of some of the many possible icons used on
your computer:
(Sample Illustration) System icons