Juniper SRX4100 How To Set Up
Download How to set up of Juniper SRX4100 Gateway for Free or View it Online on All-Guides.com.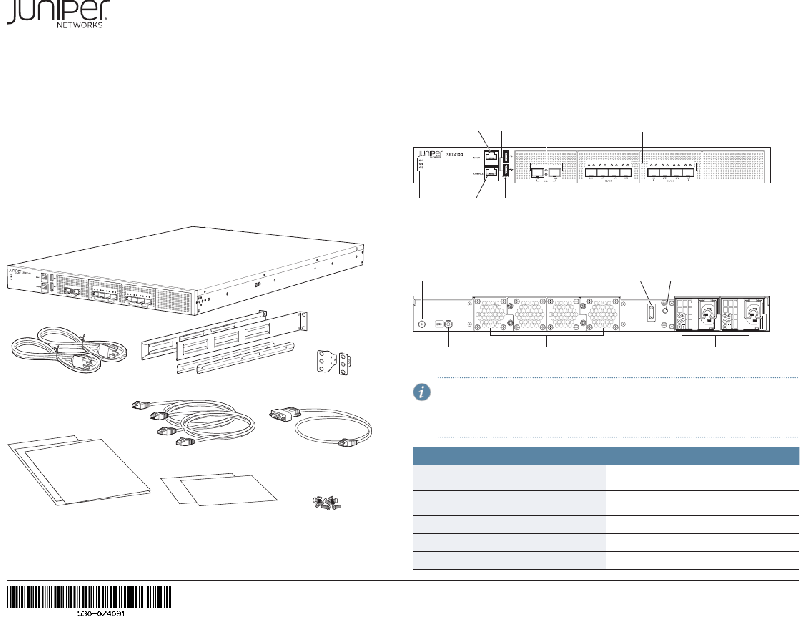 1
The SRX4100 Services Gateway is a high-performance, scalable mid-range
services gateway that consolidates security, next-generation firewall, and
advanced threat prevention capabilities to provide secure connectivity. The
services gateway is suited for small to medium enterprises and data centers.
The SRX4100 Services Gateway comes with 64 GB of DDR4 memory and two
240-GB solid-state drives (SSDs) in RAID1 configuration. The SRX4100 Services
Gateway is available in both AC and DC models.
How to Set Up Your SRX4100 Services Gateway
Package Contents
Back Panel
Front Panel
g005226
o
Dimensions (H x W x D)
1.75 in. x 17.48 in. x 25 in.
(4.45 cm x 44.40 cm x 63.50 cm)
Chassis weight
29 lb (13.15 kg)-with two AC power supplies
28.8 lb (13.06 kg)-with two DC power supplies
Average power consumption
200 W
Maximum thermal output
1500 BTU/hour
Relative humidity
5% to 90%, noncondensing
NOTE:
The SRX4100 Services Gateway shipment package contains a
packing list. Check the parts in the shipment against the items on the
packing list. If anything is missing or damaged, contact your Juniper
Networks customer service representative.
SRX4100
Warranty and
Regist

ra
tion
Information
DB9-to-RJ-45 cable
• End User Lic
ense Agr
eement
Mounting ears