Honeywell Galaxy Mk7 Installation Instructions
Download Installation instructions of Honeywell Galaxy Mk7 Keypad for Free or View it Online on All-Guides.com.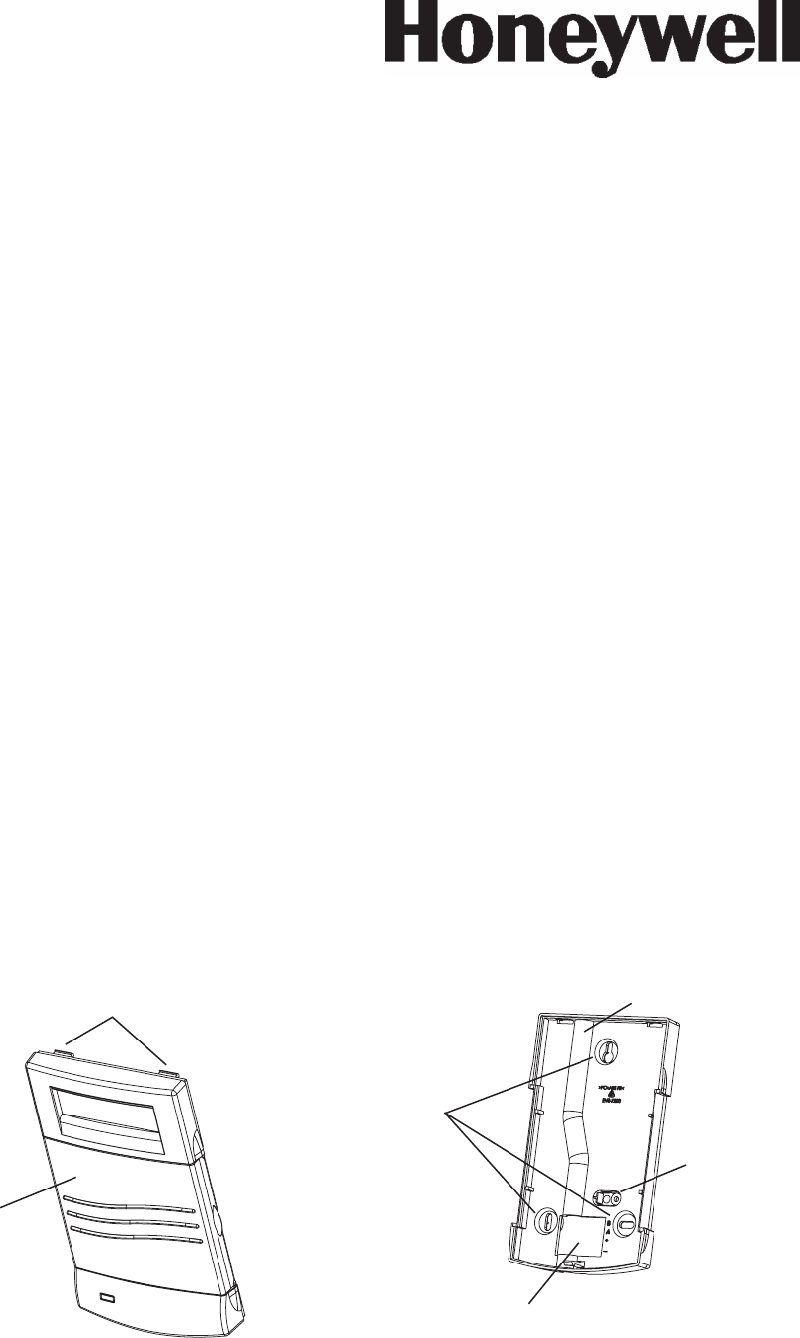 Galaxy Mk7 Keypad Installation Instructions
1.
Remove the keypad from its packaging.
2.
To fix the keypad to the wall, the back plate must firstly be removed from the front plate. To do this,
insert a suitable tool into the opening at the bottom of the keypad and twist gently.
Warning:
When the keypad is separated ensure that anti-static precautions are taken with the
keypad PCB to avoid damage from ESD.
3.
Using the back plate as a template, mark the locations for the three fixing screws in the required
position.
4.
If using a wall run cable for the keypad(A, B, +12V, 0V) position the cable behind the back plate, in
the cable channels provided. The cable can be run in from either the top or the bottom of the back
plate. Use a sharp tool to remove the plastic from the top or the bottom of the cable guides on the
back plate skirting.
5.
Ensuring that the keypad wiring is fed through the large opening on the keypad back plate, position
the keypad base on the wall and fix securely using three No. 6 Pan Head screws
1
.
6.
If an off the wall tamper is required, using a No. 6 Pan Head screw, secure the sacrificial wall
tamper, indicated in figure 1, to the wall, ensuring that the tamper knockout indicated, is still
connected to the back plate moulding.
7.
Connect the A, B and power wires to the correct terminals of the removable, four way connector
block.
8.
Ensuring that the power is disconnected set the keypad to a unique address using the 16 way rotary
switch on the PCB.
Figure 1 : Galaxy Mk7 Keypad Front and Back Plates
Back Plate
Fixing Holes
Sacrificial
Wall
Tamper
Cable Guide
RS485 Connector Opening
Keypad
Door
Fixing Clips